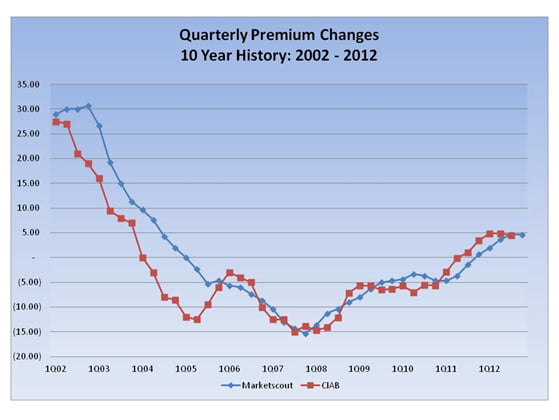 By: Dan Menzer – OPTIS Partners, LLC
As we look back on what happened in 2012 and looking ahead to what may happen in 2013, some of the uncertainties of the past remain unclear, while others hopefully have been clarified, though likely replaced by new questions to be addressed in the coming year.
Some of the questions about 2012 include the following:
Are we finally going to see a hard market?
Did the Merger & Acquisition ("M&A") activity that was supposed to continue the upward trend from 2011 producer the expected results?
Have agency principals started to heed the constant barrage of advice about preparing for an internal perpetuation of their agencies?
And of course, what happened to our Chicago Cubs and Chicago Bears, again?
With the Presidential election behind us, many of the uncertainties surrounding Healthcare Reform have been resolved, at least for now. Where we'll be four years from now is anyone's guess. Washington bureaucrats have cleared the first hurdle in the "financial cliff" but still have a lot of work to do with regard to the debt ceiling. As for the rest of the questions, please read on…
Is this a Hard Market?
A Hard Market is defined as a period when the demand for insurance coverages exceeds the supply, resulting in increased costs of insurance and/or a reduction in coverage. That's the technical definition on an industry-wide basis, but to the individual agency, it often results in short periods of large increases for many accounts followed by long periods of flat or pricing decreases on accounts. For the industry as a whole, the chart below shows several very distinct periods of premium movement:
Over the past 30 years, there have been three well defined hard markets, where total industry premium growth has reached 15% or more for a year or two in each situation, followed by several years of single digit growth. In recent years, with the recession of 2008-2010 combined with a negative trending insurance market, the total premium growth actually went negative for a couple years. Premium rates started firming (increasing as opposed to decreasing at slower rates!) in late 2011, and have continued that trend for the past several quarters.
The table below shows a more detailed view of changes in premium rates over the past 10 years as reported by the Council of Insurance Agents and Brokers ("CIAB") and MarketScout: