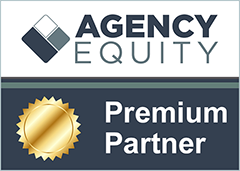 CUSTOM INSURANCE AGENCY WEBSITES BY STRATOSPHERE AT COMPETITIVE PRICES
Unlike basic websites built on a generic template, a Stratosphere website provides full customization options, seamless third-party software integration, and 100% client ownership, which fits the requirements of all-size insurance agencies. What's more, all of it comes at a very competitive price when compared to what many providers are charging!
Stratosphere websites are designed by insurance website design professionals with over a decade of experience working at more than a thousand insurance agent and agency websites. Our websites offer appealing modern and clean design, mobile-responsive features, ready-to-go insurance products, content-rich blog posts, well-placed CTAs, search engine optimization, premium safety & security features, and complete customization options.
Here are the key benefits of a Stratosphere insurance agency website:
100% client-owned website that you can take away with you when you end service with us
Full customization options to fit your unique brand and insurance sales needs
Seamless integration with third-party applications, like Agency Management Systems, Comparative Raters, and Customer Service Tools
Proactive management of all aspects of your website, from design and development to security and maintenance
Access to a private help desk platform to facilitate seamless and personalized customer service on a ticketing system
Marketing-ready websites with custom, SEO-optimized original content, mobile responsiveness, email and social media integrations
Complimentary website re-design every two years for FREE!
Details
Category
Agency Website & Design Services
Qualifications

10+ years of experience, 1000+ insurance websites created

Website
Territory

Alabama
Alaska
Arizona
Arkansas
California
Colorado
Connecticut
Delaware
District of Columbia
Florida
Georgia
Hawaii
Idaho
Illinois
Indiana
Iowa
Kansas
Kentucky
Louisiana
Maine
Maryland
Massachusetts
Michigan
Minnesota
Mississippi
Missouri
Montana
Nebraska
Nevada
New Hampshire
New Jersey
New Mexico
New York
North Carolina
North Dakota
Ohio
Oklahoma
Oregon
Pennsylvania
Rhode Island
South Carolina
South Dakota
Tennessee
Texas
Utah
Vermont
Virginia
Washington
Washington D.C.
West Virginia
Wisconsin
Wyoming

Social Links
Views
242