Third Quarter Personal Lines Composite Rate Up 5%
Details

October 05, 2020
Cat-Exposed Property Rates Face Big Increases 
Third quarter composite rate for personal lines in the US measured plus 5 percent.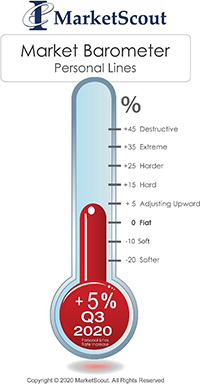 According to Richard Kerr, CEO and Founder of MarketScout, "The composite rate is measured on millions of insureds across the United States in low risk areas. Conversely, homeowners in California and coastal areas of Florida are suffering massive rate increases. If an insured owns a home in high risk wildfire or hurricane areas and has suffered prior losses, rate increases can be as high as 40 percent. Many admitted insurers are avoiding taking risk in these areas, thereby, driving insureds to the non-admitted market. Since there is less regulation for non-admitted insurers, they can restrict coverage and charge higher rates."
Automobile rates were up from 4 percent in the second quarter 2020 to plus five percent in the third quarter. Personal articles coverage was also more expensive with an increase from 2.7 percent in the second quarter to plus 4.5 percent in the third quarter.
The National Alliance for Insurance Education and Research conducted pricing surveys used in MarketScout's analysis of market conditions. These surveys help to further corroborate MarketScout's actual findings, mathematically driven by new and renewal placements across the United States. 
A summary of the third quarter 2020 personal lines rates is set forth below.
| | |
| --- | --- |
| Personal Lines |   |
| Homeowners under $1,000,000 value | Up 5% |
| Homeowners over $1,000,000 value | Up 5.5% |
| Automobile | Up 5% |
| Personal Articles | Up 4.5% |