How to Identify an Agency to Acquire
Details

June 07, 2019
Written by Kelly Drouillard, Senior Vice President - Insurance Lending
Although many agency owners may want to work until late in life, statistics show that many are likely nearing retirement and ready to sell. This provides an exceptional opportunity to the professional looking to grow through acquisition.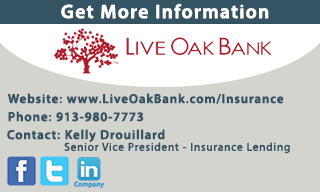 As a buyer, you can and should be selective. Look for a business that is compatible with your own—or, if you are new to ownership, one whose culture matches your working style. In addition, seek out an agency with a strong staff and a high customer-retention rate. Here are some issues to consider. 
If you are an existing owner, are you looking to expand locally and combine offices, or will you expand to an additional location? If you are a first-time owner, are you comfortable with the location of the business?
For the existing owner, if you are looking to combine both agencies into a single office, you'll need sufficient staff to handle the extra workload. If you're expanding to a second office, you need strong staff that can work well independently; you will also need technology you can access securely from multiple locations. If you will be working at both offices, look at traffic patterns to minimize commuting time. 
For the first-time owner, understand the current client base and physical location of the office. Are you comfortable with the current staff performance? Is the current market strong? 
Is the target agency growing?
Seek out agencies that have held onto their longtime clients and continue to bring in new ones so that you can capture the positive momentum. Always try to understand the demand drivers behind growth. Is this sustainable? Can it be improved? What is driving revenue stability and growth? What's the marketing strategy? 
Is the agency's technology compatible with yours?
When combining organizations, compatible technology will make for a much easier transition, especially if you don't plan to retain the acquired agency's staff for long. It can be very challenging for both clients and employees to change IT cultures. 
Are both agency's financials in good shape?
Do a deep dive into your acquisition target and make sure it's healthy, with no problems brewing under the surface. The same goes for your own agency; make sure you have the healthy income statement and balance sheet of an attractive acquirer. Remember, when evaluating an agency, there should be enough cash flow each year to support your personal needs, make new loan payments and have a healthy buffer left over. 
Download Live Oak Bank's full Insurance Agency Acquisition Guide here. This guide will help you target an appropriate acquisition, successfully apply for credit, and manage the transition. 
At Live Oak Bank, we are proud to have a team that is solely dedicated to working with the insurance industry nationwide. If you have a question about acquisitions or other business-financing inquiries, please contact us. Even if you are not ready to apply for a loan, we are happy to answer your questions and point you toward helpful sources of information. Our goal is to partner with you to make your dreams of ownership a reality. 
Kelly Drouillard is the Senior Vice President of Insurance Lending at Live Oak Bank, Wilmington, NC. Reach her at [email protected] or 913-980-7773.