EZLynx Offers New Tools to Take the Grind Out of Submitting and Servicing Commercial Lines
EZLynx, long known as a leader in providing software solutions for personal lines insurance, has brought the same expertise into the commercial lines space. From our 15 plus years of experience shaping the industry, we understand the needs of commercial insurance agencies. We see their struggles and recognize where core processes break down. 
Agents spend tremendous time and effort pursuing commercial accounts, often with no return. And with this insurance space getting more crowded, complicated and competitive every day, leveraging the right tools is critical for success.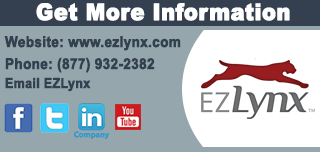 EZLynx is helping eliminate manual entry, reduce human error, automate repetitive tasks, and improve data quality. By simplifying and streamlining their workflows, agencies will not only recapture precious time and money, they will also improve their outcomes. 
We are excited to share with you new features of the EZLynx agency management system that will help insurance agencies more efficiently submit, write and manage business. 
Application Bundling. This feature permits an agent to create an application and add as many lines of business to it as she wants. For example, the agent could start with the property coverage application, click a button, and add the general liability, automobile, Workers' Compensation, and other lines of business, all in the same workflow. 
Application bundling will also automatically eliminate redundant ACORD applications. There are some lines of coverage, such as GL and property, that use the ACORD 125 form. This feature automatically prevents completing it twice. 
Application bundling is currently undergoing beta testing.  
Imports & Exports. This feature, which is available now, allows an agent to easily send schedules to a client for review and to update them based on the response. For example, in the months before an auto policy is due to renew, the agent can export the current vehicle schedule to a .csv file and forward it to the client. The client may add or remove vehicles from the schedule and return it to the agent. The agent can then import the revised file into EZLynx without having to manually input the changes.
Please click here to sign up for a demo
If the system detects any redundancies or changes, it will ask the agent to validate them before changing the schedule. In addition, EZLynx will look up vehicle identification numbers (VIN) automatically. 
Submission Center. Agents cannot waste time submitting business to carriers that will not consider it. EZLynx Submission Center makes it easier to target the right carriers. It integrates with Ask Kodiak, an insurtech platform that tracks carriers' underwriting appetites as updated by the carriers themselves. Submission Center helps agents identify the right carriers for an account. It also gives them a dashboard for monitoring that account through every step of the submission process. On one screen, the agent can see the submission was sent to a given carrier, when transitions occurred, correspondence with the underwriter, when binders and policies were issued, and more. This product is available now.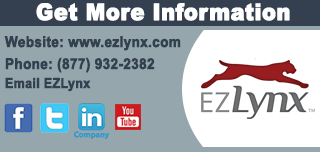 Forms Workflows. This feature, also available now, simplifies creating submissions. Together with the application bundling feature, it will create the ACORD applications for the account in a single step. The agent can then attach additional information such as loss runs, financial information, photos, motor vehicle records, inspections and more. EZLynx creates a PDF file containing all the applications and information for the agent to review before uploading to carriers. 
Certificates of Insurance. We know what a time-consuming and expensive task issuing certificates can be. It does not have to be that way. EZLynx will allow an agent to create a single master certificate that will be the basis for all certificates issued for that client. The master certificate workflow also supports master remarks, documents, and automatic roll over to the ACORD 101 on information that is consistent for all certificate holders. 
Of course, many certificate holders demand wording in that field that is unique to them. That is why EZLynx will make it easy to modify an individual certificate that is based on the master. The agent will be able to revise the wording on an individual certificate to meet the client's needs. 
Distributing the certificates will also be easier. To make distribution easier, an agent will be able to deliver certificates with one click through whichever method the client prefers. Clients will even be able to retrieve them on their own using EZLynx Client Center. 
We expect this feature to become available in December 2019. 
These new features will help agencies boost productivity and make submitting and servicing accounts easier. The time agencies will save on the mechanics of client management will free them up to do what they do best – developing strong relationships with clients and helping them lower their cost of risk.
Please click here to sign up for a demo