Standards & Guidelines For Appraising Insurance Agencies / Brokerages 2015
Details
Page 5 of 27

Credibility of Data Used for These Standards & Guidelines
Credibility of Data & Profile of Contributors
Much of the information and data for these Standards & Guidelines was contributed by AAIMCo members. To lend credence to the data published herein, a profile of contributors was initially compiled in May, 2011 and updated in 2015.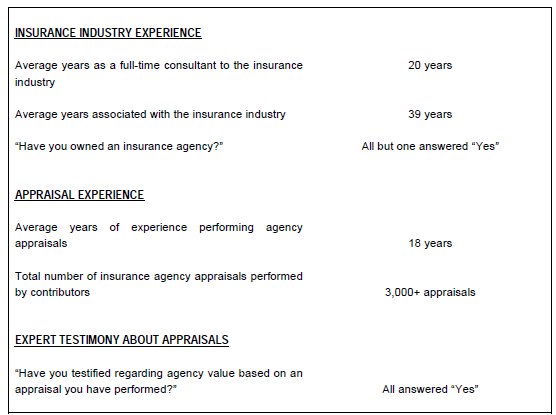 In addition, contributors hold a number of professional designations including insurance industry-specific professional designations, including Certified Public Accountant (CPA), Certified Insurance Counselor (CIC) and Chartered Property and Casualty Underwriter (CPCU).
Contributor experience ranges from ownership of insurance agencies, brokerages, insurance company experience on both staff and executive levels, producer experience, claims experience and much more. In addition to past industry experience, present insurance consulting assignments include dealing in the sale, merger, acquisition and dissolution of insurance agencies.