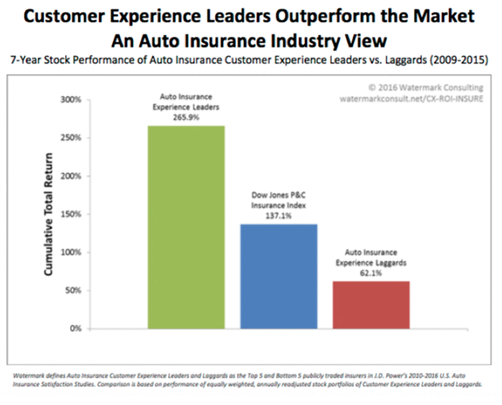 Insurance companies and their customers seem to be perceiving each other from the opposite ends of a telescope. An insurance company call center may get hundreds or thousands of calls from customers per day – dealing with issues from claims to billing questions to address changes to coverage questions and requests for additional coverage. Any individual call is just one of thousands of routine interactions and the insurer simply goes about its business. After all, the call center is not a core operation. Insurance executives like to hobnob with actuaries and sales people, and talk investment, risk and new business. Too often, the call center – and the customer experience – is an afterthought. 
And that's how they treat customers. 
On the other end of the telescope, the customer perceives the interaction very differently. When a customer calls with a problem or claim, the interaction is anything but routine – for them! This call may be the only direct contact with a live body from the insurance company in years and it can make or break the lifetime value of the customer for the insurance company. 
As a result, companies that neglect their customer interactions after the sale have a hard time hanging on to new business. Over time, customers get fed up with their bad experience and move to new insurers. If they find one that excels at customer service, they will stick. 
A recent study from Watermark quantified the benefits of a superior customer service effort in the insurance industry and found that the customer service advantage isn't just theoretical. A quality customer experience has an immense ROI and provides enduring value to shareholders. 
The study compared the stock performance of publicly-traded insurance companies with good and sub-par customer experience ratings, as defined by the results of the annual J.D. Power and Associates annual Insurance Customer Satisfaction Study. The result:  Companies with excellent customer service and customer experience routinely outperformed those who scored poorly on customer service skills. 
For example, in the auto insurance category, customer experience leaders outperformed the broader S&P Property & Casualty Index by 129 points over seven years.   
Watermark found a similar trend in home insurance, with customer experience leaders beating the Property & Casualty Index by 42 points. 
Meanwhile, those companies with poor customer experience scores according to Watermark's metrics tended to underperform the Index. 
Over the seven year period Watermark studied, auto insurance companies that excelled in the customer service area generated nearly triple the average annual return of the laggards.