By: Rachel Stauffer, Content Manager, HawkSoft    
Client data is one of the most valuable resources agencies have, and they often don't realize they're sharing or even signing away ownership of it to the technology vendors they use. Many of the largest agency management systems and technology providers are being bought out or given investment capital by private equity and big data companies, who spend billions to acquire the aggregated data of the agencies that use them. 
3 questions to ask vendors about your data
There are three important things you should ask when considering an agency management system or any other technology platform that will house or access your client data.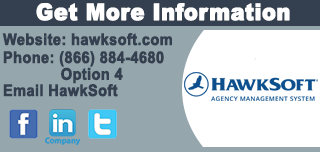 1. Does the agreement give the vendor ownership of your data?
Most vendors will require you to either sign an agreement or accept their terms and conditions in order to use their product. Before accepting any agreement with a vendor, make sure you understand whether the vendor is entitled to share, sell, or otherwise use your agency's data without your consent.
Also consider who owns or has a stake in the company, and what their motivations could be. If the company has outside investors or has changed ownership recently or many times in the past, the scope of the product and the agreement may change in the future as well.
2. Is your data tethered to the system if you decide to leave?
True ownership of data means it's not trapped in one system—an agency should be free to change systems if necessary for their business. But vendors often make it difficult for agencies to leave by locking them into long-term contracts and making it costly and time-consuming for them to get a copy of their own data, often charging thousands of dollars in data extraction fees and taking months to provide the agency with a copy of their own data when they leave.