Your management system is the heart of your agency. So when you change out an agency management system, it's like getting a heart transplant. Your processes and your data are the lifeblood of your agency.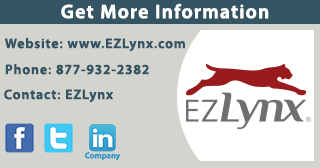 So when you set out to make an improvement to your agency management system to increase your productivity and profitability, it follows that you want to go to the very best "heart transplant" clinic in the country.
That's us. That's what we set out to be from the very beginning. 
"EZLynx was there every step of the way. Everything that EZLynx promised I would get, I got it, and better. With EZLynx I really feel a partnership; it feels like we were meant to do business together." –Phil Klein, Phil Klein Insurance Group
America's Fastest Growing Agency Management Platform
According to the Independent Insurance Agents and Brokers of America, Inc. 2014 Agency Universe Study, EZLynx is the number one choice in the industry in the Comparative Raters category, with a 19 percent market share. Furthermore, the same study is also showing that EZLynx is the fastest growing agency management system in the country. We're currently tied for the third place in that category. But since EZLynx was too new to even be mentioned in the last Agency Universe Study just two years prior, it's clear that when agency principles get a good look at EZLynx, they increasingly choose our system over the competition. EZLynx's agency management system made significant gains in market share against some very established competition. 
The EZLynx Difference 
Why are agencies increasingly choosing EZLynx? Simplicity and elegance. Legacy systems have to tack new functionality on top of older platforms – often resulting in less-than-perfect interface between the different functions. The challenge with legacy systems is trying to tie together a CRM system, a task management/routing system, an email system, an electronic signatures program, a calendar, a quote system, a marketing system and a dozen other things — and trying to get them to talk to each other. 
Even if the IT types can manage that monumental task, the agent and manager are still left having to juggle the requirements of managing multiple systems and switching back and forth. The result can be massive overload, inefficiency and frustration – even where all the programs are actually working! 
In contrast, EZLynx was designed as a single integrated whole. Instead of having to tie together a separate CRM system 
"Once I found out that EZLynx had their own management system, I signed up immediately. The rater and management system work together seamlessly, and all on one platform. In addition, the price is very affordable, it's easy to use, and their customer support is outstanding! I now use EZLynx for everything." –Steve Vogel, Twin Bridges Insurance Agency, Inc. 
Simplification
The EZLynx approach was to streamline the many needed functions into a single fully-integrated system. The goal: Create an interface so intuitive and easy to use that the agent doesn't have to think about it. 
The plus for the agency? Your agents don't have to spend their time fighting your computer systems trying to get it to do what they need it to do. With EZLynx, your technology isn't an adversary to be overcome or a sop on agents' time. EZLynx frees your agents to do what they do best: Call prospects and clients – and sell insurance.
To find out more, contact us today at 877-932-2382, or visit us online at www.EZLynx.com.
About EZLynx
EZLynx® develops industry-leading cloud-based software for the insurance industry. Our software has helped independent agents operate their businesses more effectively for over ten years. EZLynx is proud to be the innovators of several products that, previously, the insurance industry had never seen, including: Real-time rating, Agency Pulse™, Policy Sync, eSignature integration, and a unified rating and management system.