By Dustin Lemick, CEO BriteCo Jewelry & Watch Insurance
BriteCo, a leading tech-driven provider of jewelry and watch insurance, has expanded its digital platform to give independent insurance agents and brokers a unique growth opportunity.
BriteCo's new Agent & Broker Program enables approved independent insurance agents and brokers across America to offer BriteCo jewelry insurance to their clients, obtain quotes, complete forms, update limits, and manage client policies through its online portal in minutes. 
Insurance agents and brokers have traditionally added fine jewelry items as a floater to homeowners policies for coverage and struggled with slow, outdated processes from legacy jewelry insurance providers. The standalone jewelry and watch insurance market is limited in the number of providers with little product or rate innovation in the past 30 years.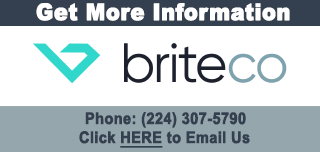 BriteCo is changing this across jewelry insurance rates, rules, processes, and forms with a faster, easier and more affordable way for consumers to get coverage through their independent agents. With consumer insurance rates rising, inflation and other factors, the BriteCo Agent & Broker program helps independent agents and brokers better serve their clients and grow their book of business.
A first for Agents and Brokers
The Agent & Broker program is the first BriteCo offering for agents and brokers that leverages tech-enabled, streamlined processes to replace outdated, legacy jewelry insurance formats that often take days or weeks to complete and require tedious paperwork. Key features of the BriteCo program:
Better jewelry coverage at a better price – clients could save up to 40% over competitors
Instant quotes and underwriting decisions in minutes
All policies are backed by an AM Best A+ rated insurance carrier (licensed in all 50 States)
No-touch renewals with automated limit updates
No claims reporting to third parties such as C.L.U.E. and A-PLUS
No accounting lift – BriteCo manages all payments, claims, reporting and commissions
Better coverage for your clients at a better price
BriteCo has transformed the jewelry insurance buying experience by leveraging technology to offer better coverage and competitive pricing in comparison to other jewelry insurance providers, including:
All risk coverage including mysterious disappearance.
Worldwide coverage with no territorial restrictions.
Always zero deductibles
Covers up to 125% of the insured limit
Automated value updates based on real time market prices
Limited preventative maintenance coverage
Recognized by major publications such as Brides, International Gem Society, Investopedia as a top insurance provider, BriteCo consistently earns 5-star rated reviews from customers for its coverage and its claims management. The BriteCo Agent & Broker Program is available now to licensed independent insurance agents and brokers in the United States through appointment only with BriteCo.