Ready Capital is a lending company that has a long track record of success working closely with insurance agency owners in all 50 states.
First, we help agencies manage and grow their own practices by providing financing for practice/portfolio acquisitions, succession planning and their commercial real estate needs.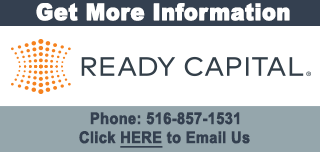 Second, we give them a trusted resource to introduce to their customers and prospects to help them finance their commercial real estate and business operating needs.
OUR APPROACH
We take great pride in delivering fast, dependable solutions that will help an agent take advantage of opportunities to grow their book of business with little out-of-pocket investment required.
In addition, by making our business lending products available to your customers, we will cement your role as a trusted advisor and keep your customers from seeking capital from resources that may very well look to poach the insurance/benefits relationship.
Ready Capital has provided over $7 billion in funding and is in the top 1% of lenders in our business lending space. From easy referral and a fast, initial determination of eligibility and fit, we deliver a high touch, consultative process that has been carefully built to deliver a superb customer experience
HOW READY CAPITAL CAN SUPPORT YOU
We offer loans from $350,000 to $10,000,000 for a wide variety of business purposes, featuring a creative, non-bank lending box for more approvals and very low borrower equity injection requirements. Loan terms can be up to 25 years with no early balloons and with preferred rates available for strong credits.
In addition to the financing services we provide to insurance agents and their customers, we pay significant referral fees to agents for every successfully funded customer opportunity.
RECENT SUCCESSES
LOUISIANA, Insurance Agency with Nationally Recognized Carrier Affiliation
Agency & Leasehold Acquisition; Working Capital
Loan Amount: $1,289,500
Highlight: Only 5% borrower equity required
NEW JERSEY, Independent Insurance Agency
Business Acquisition, Working Capital
Loan Amount: $558,800
Highlight: Partial Acquisition of Accounts of retiring agent
CALIFORNIA, Independent Insurance Agency
CRE Acquisition and Renovations
Loan Amount: $1,851,000
Highlight: Consolidate leased locations of three recently acquired agencies
CONTACT US To learn more about how Ready Capital can help, please contact Austin Adams, Vice President, Business Development Officer at agents@readycapital.com.