Your independent insurance agency competes with dozens of peers, independents and captives alike, all using the same methods to land new clients. An agency that wants to stand out from the competition will inform and engage consumers before trying to sell to them. Give them information they will value and selling becomes a lot easier.
The highest-performing agencies use technology to make their operations more efficient and client-friendly. A new generation of software automation tools takes that model and applies it to marketing. Social Jazz is a social media scheduler that helps you to maintain a consistent social media posting schedule. We offer an automated marketing tool that can impress your prospective clients in ways that your competition doesn't.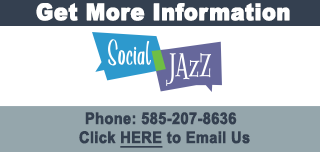 Producing valuable content doesn't have to eat up hours of time you could spend servicing your clients and prospecting for new business. The Social Jazz insurance platform creates a social media plan for your agency automatically, content included.
When your agency signs up, you simply pick events and topics to be the subject of social media posts. Topics and events run from insurance coverages (life insurance, auto, health, etc.), tips, fun facts (average number of windshields damaged by baseballs each year,) holidays (Thanksgiving, New Year's Eve), awareness months and much more.
Whatever you pick, Social Jazz automatically creates the content and posts it on your preferred social media platforms. You can post to one, a few or all of them. You can customize or edit your choices at any time, or add your own posts – you have full control. The whole process, including the time it takes for the confirmation email to hit your in box, takes 3 minutes or less. You can plan a year's worth of social media content in the time it takes to eat a bagel.
Remember, social media posts aren't just advertising. They about building relationships with your clients. You're not advertising your low, low insurance rates – you're talking about things that matter to them. When clients like what they read, they'll keep coming back and telling others about your agency.
Effective use of automation is the key to efficiency, and efficiency widens profit margins. The agencies that will thrive in the 2020s will be those who automate their operations and their marketing while generating leads for potential clients who feel like they matter. Social Jazz is the only tool on the market that combines a cutting-edge automation platform with content created by experts specific for the industry.
Learn more about how Social Jazz can help your agency grow by visiting our website, LinkedIn or Facebook pages.