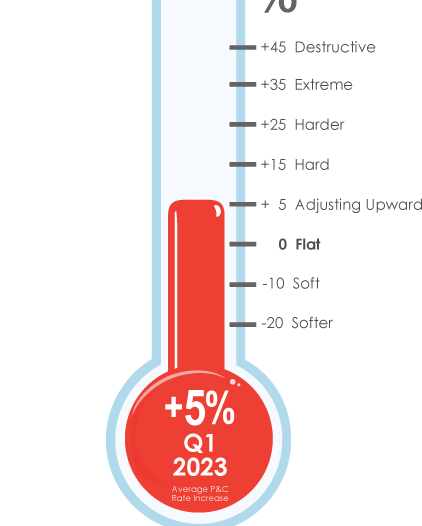 Steady, moderate rate increases continue.
The composite rate for commercial property and casualty rates increased in a deliberate, modest fashion in the first quarter of 2023 at plus 5%.
The only coverages of notable change were general liability, down from plus 6.7% in Q4 2022 to plus 4.3% in Q1 2023 and EPLI, down from plus 6.3% to plus 3.7%.
By account size, rates decreased for all sizes except those with premiums of $250,000 to $1,000,000 which were up in comparison to Q1 2022 from plus 4% to plus 4.7% in Q1 2023.
Rates by industry group reported transportation as the only quarter over quarter rate increase, which was up from plus 7.3% in Q4 2022 to plus 8% in Q1 2023.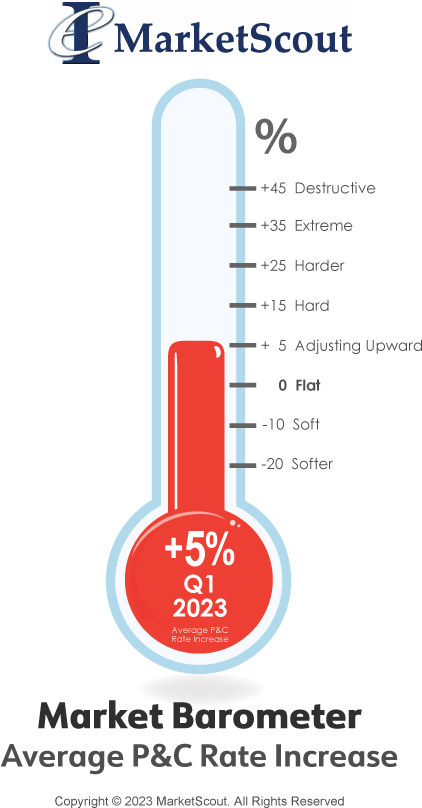 "It's not surprising to see rates holding steady in the first quarter," says Richard Kerr, CEO of Novatae Risk Group. "We will get a better measure of overall composite rates for 2023 in the next two quarters."
The National Alliance for Insurance Education and Research conducted pricing surveys used in MarketScout's analysis of market conditions. These surveys help to further corroborate MarketScout's actual findings, mathematically driven by new and renewal placements across the United States.
A summary of the first quarter 2023 rates by coverage, cyber liability, industry class and account size is set forth below.
| | |
| --- | --- |
| By Coverage Class | |
| Commercial Property | Up 9.3% |
| Business Interruption | Up 4.7% |
| BOP | Up 3% |
| Inland Marine | Up 3.3% |
| General Liability | Up 4.3% |
| Umbrella/Excess | Up 5% |
| Commercial Auto | Up 7.3% |
| Workers' Compensation | Down 0% |
| Professional Liability | Up 5% |
| D&O Liability | Up 4.3% |
| EPLI | Up 3.7% |
| Fiduciary | Up 2% |
| Crime | Up 1% |
| Surety | Up 1% |