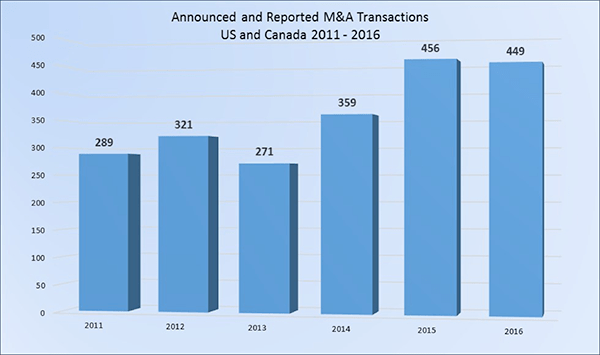 Another way to look at the activity by type of buyer is the actual number of transactions, with virtually all of the growth in the total count coming from increased activities by the PE-backed buyers and the privately owned buyers: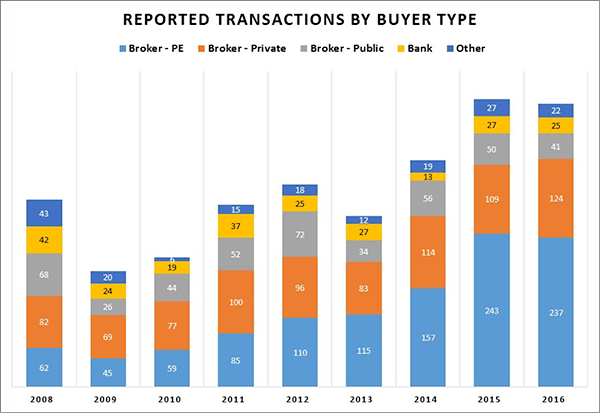 The table below illustrates the activity levels of the different buyer groups over time, comparing the average number of transactions per year over the period 2008 through 2016: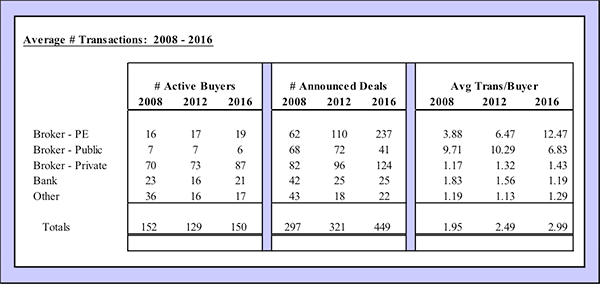 Although the number of buyers in each category has moved around, the two most active groups in terms of average deals per buyer have had a relatively stable number of participants over the past 8 years. However, the number of deals and the average number per buyer has changed dramatically for these two groups. The PE-backed buyer group has increased from less than 4 transactions each to an average of about 12.5 deals while the publicly traded brokers has dropped from an average of 9.7 deals each to less than 7. For the others, although the number of transactions has increased for the privately owned and decreased for the others, this is such a disparate group with few firms completing more than one or two deals each year.
Included in the results shown above were several transactions in 2016 with some of the largest agencies, including the following:
Feb, 2016, BB&T (bank) purchased Swett & Crawford, the North American operations of CGSC North America
Apr, 2016, Broadstreet Partners (backed by the Ontario Teachers' Pension fund and Century Capital) purchased Sterling & Sterling, #61 on the Business Insurance Top 100 in 2016
Jun, 2016, Prime Risk Partners (backed by Thomas H. Lee Partners) purchased Old National Insurance, #101 on the Business Insurance Top 100 in 2016
Jul, 2016, Alliant (backed by Stone Point Capital) purchased Mesirow Insurance Services, #41 on the Business Insurance Top 100 in 2016
Not included in the numbers above are three transactions during 2016 where the private-equity firm sold their interest in an existing agency or new private-equity money entered the marketplace:
Jun, 2016, Connor Strong & Buckelew sold a minority interest in their firm to Century Equity Partners
Oct, 2016, New Mountain Capital sold their position with AmWINS Group to Dragoneer Investment Group
Oct, 2016 Genstar Capital sold the majority of their interest in Acrisure to a management-led buyout of the firm