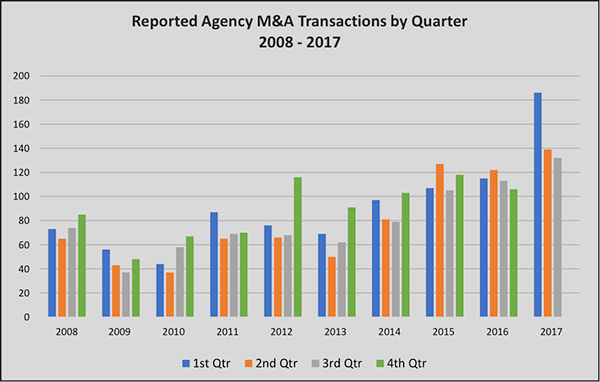 2017 3rd Quarter
Agent / Broker Merger & Acquisition Update
by Timothy J. Cunningham & Dan P. Menzer
Agent / Broker Merger & Acquisition Summary
Insurance agency Merger & Acquisition ("M&A") transactions continued the highly active pace during the 3rd quarter with a total of 132 reported sales and was the third highest quarterly total, behind only Q1- and Q2-2017.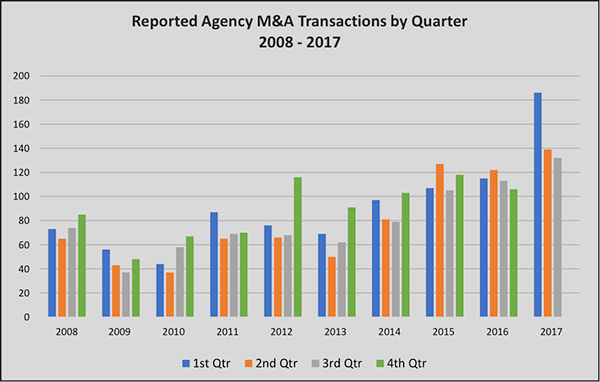 The 457 total transactions reported through 9-months is equal to the previous annual record from 2015, with no end in sight of the buy-side appetite or sell-side supply of insurance broker acquisition activity.
The make-up of the transactions from the buyers' and sellers' perspectives for 2015-2017, including the Trailing 12-Months ("TTM") totals through September, are shown in the following two charts: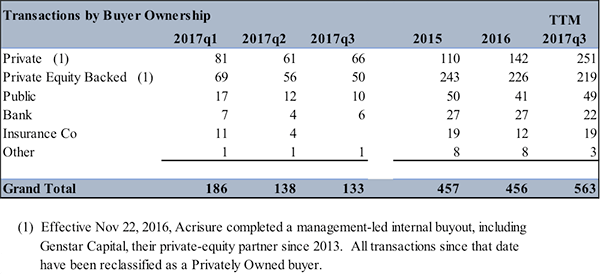 The following chart shows the top individual buyers and their ownership type: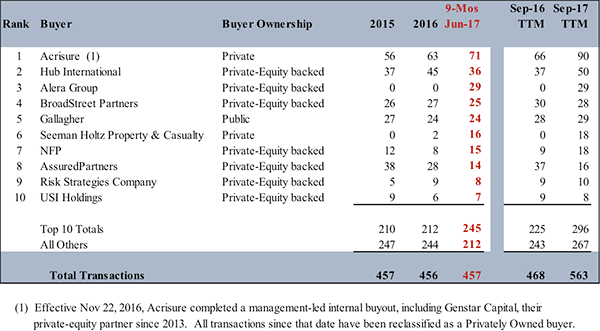 The Carlyle Group sold their interest in EPIC Insurance Brokers to Oak Hill Capital Partners in July, 2017
KKR sold their remaining interest in Alliant Insurance Services back to the company in September, 2017
Summary:
2017 will be another record-setting year for M&A activity in the insurance-broker space, fueled by aggressive buyer valuations, in particular from PE-backed buyer group, and the plentiful supply of agency principals needing to complete their exit strategies.   While there remain a number of uncertainties in the economic and geo-political marketplaces, including the on-going battles with ACA and the impact of the recent natural disasters on insurance capital and ultimately premium levels, the market for insurance agencies remains a "seller's market." 
Explanation and sources of data:
Data is for U.S. and Canadian transactions in the insurance distribution sector for both retail and wholesale producers, including managing general agencies/managing general underwriters (MGA/MGU). These agencies and brokers provide property/casualty insurance, employee benefits, or any combination thereof. 
Data for reported and announced transactions have been obtained from various sources, including press releases, trade press articles, company websites and direct communications with buyers.   
————————————————————————————————————————————–
OPTIS Partners, LLC is a boutique investment banking and consulting firm with offices in Chicago, focused exclusively in the insurance distribution marketplace. We provide buy-side and sell-side M&A services, ownership succession planning, fair market valuation and related consulting services. OPTIS was ranked as he fifth most active agent-broker M&A advisory firm in 2014 and 2015 by SNL Financial.
This analysis was prepared by Timothy J. Cunningham, managing director, and Daniel P. Menzer, senior partner. 
To learn more about OPTIS Partners LLC, please visit their website.