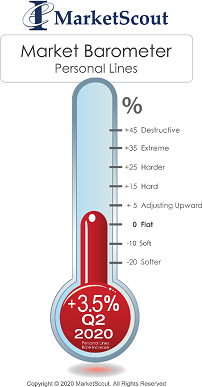 COVID-19 Impacts Rates, Underwriting Rules and Guidelines 
The 2020 second quarter composite rate for personal lines coverages placed in the US held steady at 3.5 percent, matching the rate increase for the first quarter of 2020. However, underwriters continue to assess significant rate increases for high value homes in catastrophe prone areas, particularly in California and Florida.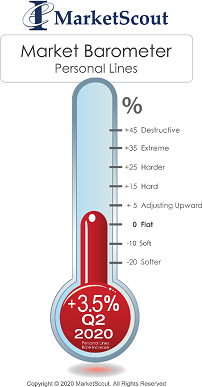 According to Richard Kerr, CEO of MarketScout, "Every member laments on the struggles of placing wind in Southern Florida and brush in exposed areas of California during our Council for Insuring Private Clients (CIPC) board meeting calls. Many insurers are writing excess of very large deductibles, if at all. Insureds are balking at some of the huge rate increases and as a result, there are probably more self-insured high valued homes in the US today than at any time in the past forty years."
Underwriters are diligently assessing the exposure impact of COVID-19 in respects to insureds with multiple homes. Kerr noted, "In our last report, we anticipated insurers would be wary of covering secondary homes because of the lack of attention they would receive. If you can't travel and everyone is on lock down, the assumption was secondary home would not be monitored as closely and small maintenance items may create large claims. However, we may have gotten it backwards, at least for the summer of 2020. The majority of homeowners have retreated to their secondary home in the mountains or on the beach to wait out COVID-19. So, the primary residence may be more exposed rather than the secondary."
In the second quarter of 2020, homes under $1,000,000 coverage A were assessed rate increases of 3.3 percent while those over $1,000,000 coverage A were at plus 4 percent.
Notable exceptions were of course in cat-exposed areas of California and Florida where rate increases range from 7 percent to 20 percent.
Automobile rates were plus 4 percent and personal articles/fine art experienced rate increases of 2.7 percent.
The National Alliance for Insurance Education and Research conducted pricing surveys used in MarketScout's analysis of market conditions. These surveys help to further corroborate MarketScout's actual findings, mathematically driven by new and renewal placements across the United States.
A summary of the second quarter 2020 personal lines rates is set forth below.
Personal Lines
Homeowners under $1,000,000 value
Up 3.3%
Homeowners over $1,000,000 value
Up 4%
Automobile
Up 4%
Personal Articles
Up 2.7%