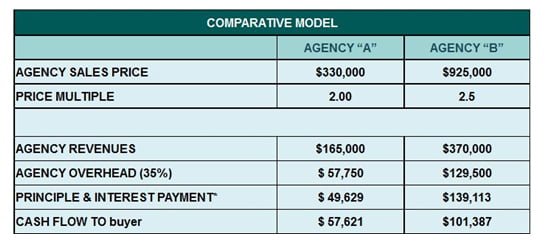 Rent – If a seller has signed a lease that must be assumed by a buyer for an inefficient space, resulting in a higher than necessary occupancy costs being absorbed by the buyer (not at their choosing), that will negatively affect cash flow, and likely drive the final price of the agency down.
Staff costs – If a sellers pays his staff above market value, or gives benefits typically not offered to Insurance staff, this will have a negative effect on cash flow and will likely result in a lower price being received for this agency at the time of sale.
I always recommend business owners be smart with their staffing costs. Remember, staff is replaceable. You as the owner are not replaceable. Be the CEO of your business and make the hard decisions to ensure your interests are taken care of.
5. SELLER TRANSITION PLANS – The seller's transition plans could potentially be the number one item on this list. I have seen many deals die because a buyer becomes uncomfortable with a seller's plans after the sale. I have also seen a large-sized agency sell for just over TPP because the selling agent was not willing to sign a noncompete or solicit agreement that would provide ample protection to the agency buyer.
Word travels fast. If a seller has plans to stay in the business or violate a noncompete agreement, the buyer often finds out in advance of the sale. Of all the items on the list, the seller transition plan can be the most damaging for both the buying and selling parties.
There are many agency buyers who are dealing with lawsuits and disputes regarding violations of a covenant not to compete and solicit agreements with former sellers. On the flip side, many selling agents have been forced to take TPP as the market didn't see the risk in purchasing an agency from an individual they knew was going to be a direct competitor following the sale.
6. COMPENSATION– When I talk about compensation, I am talking about the income received by an Allstate agent and what is required of the agency owners to receive that income. My personal opinion is that the proposed Variable Compensation model for 2013 (with relative ease for agents to get from 9% back to 10% comp) is ideal for maximizing Allstate Agency values, as it provides a healthy mix of fixed income (reward for historical performance / renewals), and contingent or bonus income designed to compensate agents for new business. If the compensation model was modified to compensate agency owners primarily for new business written, and the compensation received by agents for historical performance and client retention was diminished, then we will certainly see a reduction in the value of Allstate Agencies. Agency purchasers are buying the historical performance of an agency with the hopes of rewarding themselves for the future performance of the business under their own leadership.
7. COMPULSION TO BUY OR SELL– Compulsion is almost always bad and typically will negatively affect either the buyer or seller acting with compulsion. However, compulsion can be a part of a calculated strategy. I see three areas where Compulsion factors into the buy / sell process and affects the final price of an agency purchase:
a. Compulsion on the part of the buyer – These individuals are often outside buyers and it is often the case that buyer will "stretch" on a purchase because "It's really close to home" or "I've just always really wanted to own my own business." In these cases, the buyer is putting good business decision making on the sideline in their seemingly blind pursuit of an agency purchase. They do not have their business hat on, and will typically not walk away from a purchase that is screaming at them to walk away. These buyers usually overpay on price, and will even concede in very dangerous areas such as a covenant not to compete and a covenant not to solicit terms.
b. Compulsion on the part of the seller – Currently, the amount of compulsion I am seeing from sellers has diminished significantly. During 2011, and the early parts of 2012, many agents sold for less than full value due to their negative perception of Variable Compensation. PPCLOAN also financed many agencies where the selling agent was either terminated or felt a termination was eminent, and value was lost in these circumstances.
---
The views, opinions, positions or strategies expressed by the authors and those providing comments are theirs alone, and do not necessarily reflect the views, opinions, positions or strategies of AgencyEquity.com.