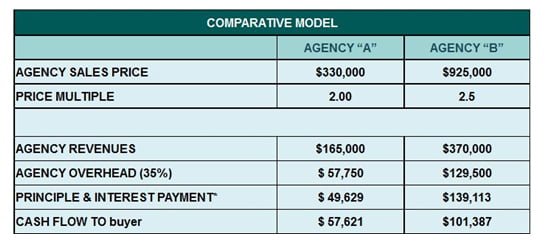 The Allstate brand has a very strong reputation in the market.
The agency ownership opportunity is a very unique entrepreneurial opportunity desired by many and not matched by any other major Insurance carrier.
The product sold is a base need product that is required for purchase by the state and/or mortgagee, resulting in very inelastic demand for the product.
Allstate provides significant training and support from field management to all its agents.
All these factors contribute to a nice equilibrium of supply and demand for Allstate Agencies which helps to ensure that agencies maintain healthy values in step with their economic value. Certainly, Home Office has been instrumental in developing and maintaining the positives mentioned above. However, corporate could also change direction and put policies in place that reduce the attractiveness of the Allstate Agency ownership opportunity. Some of the factors that could result in the equilibrium price of an Allstate Agency being reduced are:
Dramatic shift in the compensation model from primarily fixed compensation to predominately variable or contingent compensation.
Any event resulting in a flood of sellers (increased supply), where demand (those desiring to purchase) could not keep up.
If the Allstate brand took a hit and was viewed by the customer pool as a less than reputable company to purchase insurance from (this negative stigma would likely stick heavily on the agency force).
If the Allstate Agency ownership opportunity is seen as less than desirable by those looking for a career change.
10. DEATH– Death of an existing Allstate agency owner is not a very common occurrence as most agency owners sell their agency and enter retirement or another field of business prior to their own death. However, in those instances where an unexpected death does occur during a period of ownership, death could result in significant loss of agency value. In some instances a surviving spouse or widow will transfer the book into their own personal name or into the name of a child, and although this can be a lot of work, it can help preserve long-term value until the agency is sold (or in some cases the business is desirable to the widower or child and is maintained as a primary source of income).
The worst case scenario for a widower in the event of an owner's death is receiving the TPP value or some nominal amount above TPP in an agency sale. PPCLOAN has seen several transactions that involved an unexpected death of an Allstate Agency owner where the agency was transitioned to another agent or outside buyer for less than market value. Instances even included high quality $3M to $4M agencies that sold for just pennies over TPP.
The lesson to be learned is prepare a succession plan as you are able, but realize Allstate must ultimately approve the buyer. Don't wait until the last minute, as after the time of death will likely be the hardest time to quickly secure a buying candidate.
Ultimately, life insurance is the one sure safeguard for your heirs in the case of an unexpected death. Do not burden them with the task of selling your agency for top dollar following your death. Have ample insurance and leave them in a position to where any sale of your agency is strictly a cherry on the top of an already sound estate planning strategy.
Certainly, these Top 10 Factors are not the only factors driving the value of an Allstate Agency. Below, I have included a list of additional items than can be critical when determining the final value of an Allstate Agency:
TURNKEY OPERATION– Does the seller have the processes, the people and the proper utilization of technology to make it easy for the purchaser to succeed?
FINANCIAL STRENGTH OF BUYER– As a Seller, unless you get lucky and find that needle in a haystack Agency Purchaser who has cash to write a check for your desired purchase price, you are going to need a little luck when selling your agency with regards to the ability of a candidate to qualify for the desired amount of financing.
---
The views, opinions, positions or strategies expressed by the authors and those providing comments are theirs alone, and do not necessarily reflect the views, opinions, positions or strategies of AgencyEquity.com.