With a bit of pre-planning, phone calls can also be automatically routed to the various areas of your agency, depending on the client's need—Life, Commercial, Auto, etc.
On the outbound side, phone numbers appear as hyperlinks inside EZLynx. You save time by using these hyperlinks to dial numbers directly within the software.
Vonage integration also makes it easy to log each phone call—both inbound and outbound—to the customer's record in EZLynx. These call logs are created automatically, but you can also include additional notes to further document the conversation.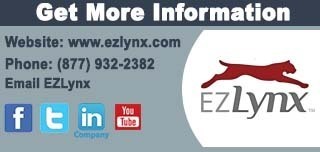 Call Recording is an exciting new feature of the Vonage/EZLynx integration. You can either choose to record all calls between your agency and its customers by default, or you can opt to only record calls on-demand as needed. The most obvious benefits of Call Recording pertain to reducing E&O exposure. But sometimes it just makes sense to have an as-it-happened account of a conversation and its details. Think compliance, audits, and staff training.
These call recordings are automatically archived to the proper customer account in EZLynx, where they can be saved for the full recommended seven years. You'll likely stay in the habit of taking some notes the old-fashioned way, but how nice it will be to have the audio recording for future reference.
Vonage Business Communications was already an incredible solution. This integration with EZLynx makes it even more powerful, streamlining your customer touchpoints and making your phone calls more meaningful. And with features like automatic Call Logging and Call Recording, EZLynx Management System can now provide the peace of mind that comes with a full record of all your phone communication with customers.
More information on the Vonage integration with EZLynx can be found here:
https://www.ezlynx.com/vendors/vonage.html