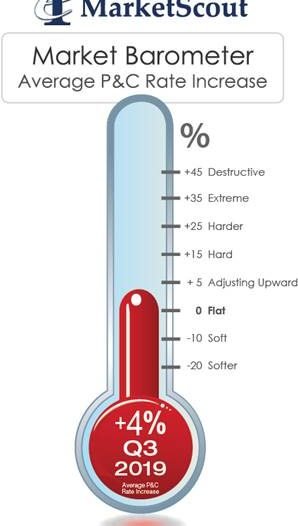 Transportation and habitational risks assessed largest rate increases
US property and casualty insurers continue to assess rate increases in almost every industry and line of coverage. The composite rate increase in the third quarter 2019 was 4 percent up from 3 percent in the second quarter 2019.
By line of coverage, surety was the only quarter on quarter rate moderation from 1.5 percent to 1 percent. Underwriters assessed rate increases on all lines of coverage with the exception of Workers Compensation where rates continued to hold steady at a reduction of minus 1.5 percent. Auto underwriters increased prices the most with third quarter rate increases of 6.5 percent.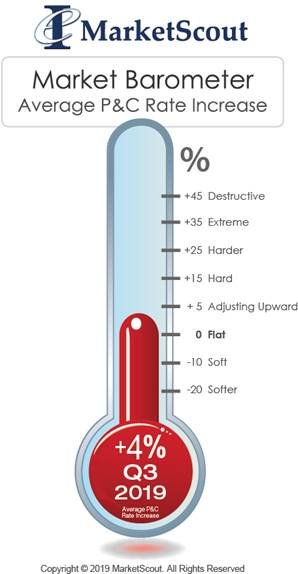 As measured by size of the account, those under $250,000 premium were assessed increases of 4.5 percent. Underwriters on accounts over $250,000 assessed average rate increases of 3.5 percent. 
By industry class, habitational and transportation businesses were assessed the highest average rate increases at plus 6 percent and plus 7.5 percent. 
Richard Kerr, CEO of MarketScout commented, "Thus far, we have had a relatively benign third quarter for property insurers. This helped slow the rapid pace of increases; however, property rates continue to trend upward. Liability and other lines also continue the upward trend. Workers' compensation rates are still down, but we do see signs indicating workers' compensation rates may move up in the fourth quarter of 2019."
The National Alliance for Insurance Education and Research conducted pricing surveys used in MarketScout's analysis of market conditions. These surveys help to further corroborate MarketScout's actual findings, mathematically driven by new and renewal placements across the United States.
A summary of the third quarter 2019 rates by coverage, industry class and account size is set forth below.
By Coverage Class

 

Commercial Property

Up 4.5%

 

Business Interruption

Up 4%

 

BOP

Up 2.5%

 

Inland Marine

Up 3%

 

General Liability

Up 3%

 

Umbrella/Excess

Up 4.5%

 

Commercial Auto

Up 6.5%

 

Workers' Compensation

Down 1.5%

 

Professional Liability

Up 4%

 

D&O Liability

Up 4.5%

 

EPLI

Up 2.5%

 

Fiduciary

Up 2.5%

 

Crime

Up 1.5%

 

Surety

Up 1%