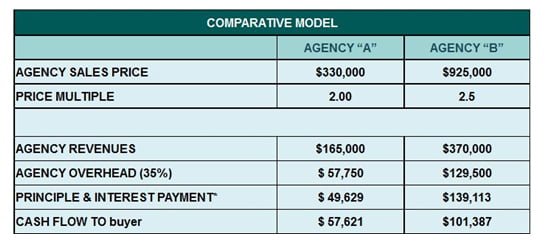 By: Paul Clarke, Executive VP and COO, PPCLOAN
Coming off last Quarter's report where I compared the ownership opportunities of Allstate, State Farm and Independent, I wanted to further look at the Allstate opportunity and try to determine what makes one Allstate Agency more valuable than another.
I often get calls from sellers or even buyers who say they are looking at the Allstate Agency Value Index and are trying to pinpoint the exact value or sales price of a particular Allstate Agency by looking at PPCLOAN's report. At this point, I remind them that the Allstate Agency Value Index is an average of agency sales and that no single Allstate Agency sells for exactly the average. Certainly, there are many factors that will drive the final sales price of an agency above or below the average, given that buried within the average multiple in the AAVI are agencies that sold for less or more than the average. Some even sold for much less or much more than the average due to various factors and circumstances surrounding the sale. The bottom line is that not all Allstate Agencies are created equal.
In an effort to make this Quarter's Editorial as reader friendly as possible, I have decided to make a TOP 10 LIST of the most important items and issues that affect the value of an Allstate Agency. The list was compiled by analyzing the buying habits of Allstate Agency purchasers, through interviews, conversation at various meetings like the National Forum, and analysis of individual agency purchase transactions.
TOP 10 LIST – DRIVING FACTORS OF ALLSTATE AGENCY VALUE
1. SIZE– Size continues to be the biggest factor driving the purchase multiple paid for an Allstate Agency. Certainly there are many factors regarding size that are attractive to buyers. The most apparent is the superior amount of take-home pay opportunity that a larger agency owner typically realizes compared to his peers with medium to smaller sized agencies.
Let's take a look at the example below: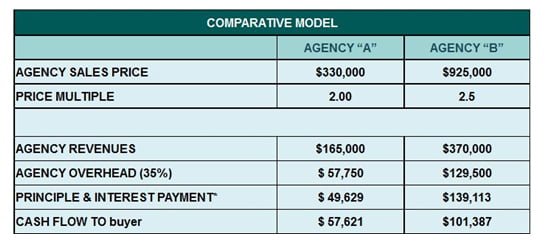 Agency "A" receives approximately $165,000 in annual commission income, where Agency "B" receives approximately $370,000 in annual commission income. Both agencies are provided 100% financing in the chart above, with Agency "B" selling for a higher multiple. In the end, Agency "B" despite carrying a higher multiple of debt provides almost twice the amount of free cash flow to its agency buyer.
The above example is a prime case for why the size of an agency is the greatest determiner in the value of an agency.
2. AVAILABITY OF FINANCING– There are many small business owners that have similar revenues, profitability and business models as Allstate Agents. However, they cannot get anywhere near the value of their business at the time of sale due to the lack of financing readily available.
---
The views, opinions, positions or strategies expressed by the authors and those providing comments are theirs alone, and do not necessarily reflect the views, opinions, positions or strategies of AgencyEquity.com.