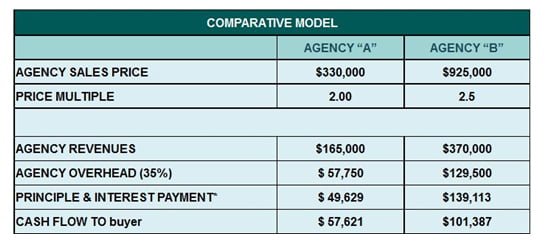 Why do Allstate Agents continue to get 2.0 to 2.5+ times commission income at the time of sale while CPA and Investment Advisors continue to receive pennies on the dollar relative to the amount of free cash flow available? It boils down to a lack of consistent and reliable sources of bank financing. But why are banks willing to lend money to Allstate Agents?
Easy to control the collateral (cash is king and Allstate Insurance Company will remit the monthly loan payment directly to the lending institution each month).
Relatively simple businesses to operate
Allstate screening and management support
TPP value – serves as a safety net, not the ultimate lendable value
3. RETENTION– Retention is a key component of any agency purchase, and one of the first things agency buyers and sellers will discuss when an agency sale is imminent. Retention tends to be the measuring stick when it comes to how much new business an agency buyer must write to maintain or grow their newly purchased agency. For example, let's compare two agencies, both with $2 Million in Earned Premium:
Agency "A" has 90% retention. For the purchaser to maintain the agency (assuming 10% of the agency's premium is lost to attrition), the buyer of this agency must write $200,000 in new premium business during their first year of ownership. $300,000 in new business written would result in 5% annual premium growth. •
Agency "B" has 80% retention. For the purchaser to maintain the agency (assuming 20% of the agency's premium is lost to attrition), the buyer of this agency must write $400,000 in new premium business during the first year of ownership.
***At $400,000 in new business required to maintain Agency "B", Agency "A" would have realized 10% growth in agency premium by retaining its retention ratio of 90%. Certainly, the demonstration above shows the importance of purchasing and maintaining a strong retention ratio.
4. AGENCY PROFITABILITY– No, I'm not talking about loss ratio, I'm talking about the amount of profit an agency owner realizes from operating their business. In 2011, I wrote an article titled "Businesses are meant to be profitable." I got a lot of feedback from agents after this article was published. Many of these agents mentioned the difficulty they were having with regards to their businesses profitability, and many felt lost and didn't know how to make their business more profitable.
At the end of the day, anyone purchasing a business wants to know that there is enough free cash flow to service any acquisition debt service that may be required to purchase that business. Allstate Agencies are no different. If an agency buyer has to come in and make drastic changes to the operating expenses of a seller's Allstate Agency just to have enough cash flow to make his or her loan payment, the buyer is not likely to make this purchase at the price that is desired by the seller. On the other hand, if the business shows an extended history of consistent performance in the area of agency profitability, this can often result in top value being received by the Allstate Agency seller.
Rule of Thumb:
For every dollar of commission income that is wasted on unnecessary business expenses, or those expenses that do not generate a positive return, the buyer has less cash flow, diminishing their purchasing power. If you have a $2 Million earned premium agency to sell, and you have 5% in unnecessary business expenses included with your true operating expenses, this results in a purchaser having $10,000 less free cash flow per year, which if applied towards debt, could result in approximately $70,000 in lost value.
**Please note that when I mention unnecessary business expenses above, I am not talking about discretionary or personal expenses, as many business owners include a portion of these on their business tax return for obvious reasons. Any lender who consistently makes loans to Allstate Agents will have no issues in adding those discretionary expenses back to the net profit of the business, allowing for a loan in step with the maximum value of the business. I am talking about truly wasted or unnecessary business expenses that a buyer will incur that will hamper cash flow and the seller value – these include:
---
The views, opinions, positions or strategies expressed by the authors and those providing comments are theirs alone, and do not necessarily reflect the views, opinions, positions or strategies of AgencyEquity.com.