Independent insurance agencies today have many options when it comes to picking a network to join. The right partner is one that:
Has long-standing relationships with a diverse group of carriers
Can offer your agency access to the quality markets you need and the most lucrative contingency payouts
We think the right partner for you is Pacific Interstate Insurance Brokers (PIIB.)
Our number one priority is profitability. Consequently, carriers trust our model and process. Because they believe in PIIB, we are effective advocates for our affiliates. We provide value from the carriers that our affiliates would not have access to otherwise, such as: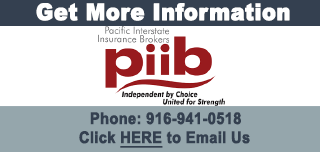 Co-op advertising funds
Diverse products not available to competitors
Potential for the highest commissions and profit-sharing payouts
We do the match-making between an affiliate and a carrier, then get out of the way. We want our affiliates to work directly with the carriers – that's how strong relationships are built over time, which results in profitable growth.
As a PIIB affiliate you will remain an independent agency. We take zero equity stake in our affiliates. Our agency friendly contract gives affiliates the freedom to do what they want with their books of business. We're also transparent about results – our affiliates know exactly how we are performing and how they are earning revenue.
Currently, we can bring on agencies domiciled in:
Arizona
California
Colorado
Idaho
Nevada
Oregon
Texas
Utah
Washington
PIIB has proven success bringing substantial growth and consistent and increased revenue to existing agencies. If you have at least two years' experience as a producer and are considering starting an agency, don't hesitate. We have had success helping agencies build from the ground up.
The decision to join a network should be a long-term one and not something that's only good for the immediate and foreseeable future. The length of time an agency network has been around should not be taken lightly. It's relatively easy to create a network. Sustaining it and its members takes experience and long-standing relationships that produce results.
The most important thing any agency can do is have a solid vision of where it wants to go and a long-term plan for how to get there. They should make sure the network partner they choose can support them and give them a realistic chance to reach that goal. You can find us at www.piib.com, on LinkedIn and Facebook, and by calling (916) 941-0518. Don't wait – call PIIB now!