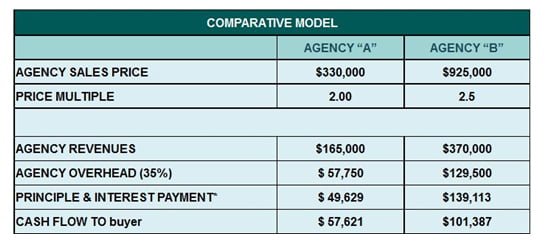 c. Experienced agency purchaser using compulsion as a strategy – What does this mean? Well, I have seen existing large and successful agency owners purchase another agency above market value as part of a bigger strategy (i.e. to obtain market share or eliminate a competitor). Ultimately, these individuals are paying above market value with little to no risk of failure due to the purchase being part of a purposeful business decision.
8. CURRENT AND EXPECTED LOCAL MARKET CONDITIONS – One of the most vocal topics of discussion PPCLOAN staff have with potential Allstate Agency buyers is: What are the current and expected market conditions for selling insurance in the local area of the agency being purchased. Being competitive or price proxy gives buyers confidence at the time of purchase, as everyone buying an insurance business wants to get off to a good start by having a climate that is conducive to writing large amounts of new business. Being in a market where competition has a significant edge can make potential buyers uneasy about paying top dollar for an agency. The current and future expected market conditions can be used by agency buyers to negotiate a reduced price, especially if the current reality and future outlook are gloomy. Conversely, if the market of the agency being sold has been strong for years, and is expected to continue to be strong, this can serve as a strong selling point for Allstate Agency sellers to get the maximum value for their agency.
This is one area where I have seen many agency purchasers getting burned, as they put too much stock in current positive market conditions, and they do not factor in a possible adverse future business climate that could make doing business harder.
Current and expected market conditions are important to buyers and seller when trying to determine the final purchase price of an Allstate Agency; however it must be taken with a grain of salt, as market conditions in the insurance business can change rapidly.
9. CORPORATE POLICY – In my opinion, the job of a CEO and those who work with and advise the CEO, are:
a. Position the company to ensure it continues beyond their tenure as an ongoing concern. Essentially, don't take risks that might put the company out of business.
b. Maximize shareholder wealth.
Those in charge at any business have to make tough decisions every day. When focusing on the long-term health of the business, it is sometimes necessary to make unpopular decisions. One could argue that any decision a CEO makes will never be supported by 100% of those who work for or interact with the company.
As an Allstate Insurance agency owner, Allstate Home Office will make decisions that positively or adversely affect your business. Allstate Home Office also makes decisions that affect the employees, regions and management either in a positive, neutral or negative way.
One example of a corporate policy change was the allowance of agency mergers for the bulk of 2010 and 2011. Many smaller agency owners who wanted to sell reaped a benefit in the form of a higher sales price, as their agency became more attractive to the market of Allstate Agency buyers who saw more value in merging a small agency relative to the alternative of having it maintained as a single location. In this scenario there was also tremendous benefit received by agency buyers, be it outside buyers or existing agency owner's, as they were able to achieve a significant economies of scale by having a single location and essentially eliminating duplicate expenses associated with maintaining multiple locations. With merger activity reducing in 2012, we will likely see some level of disappointment from existing agents and outside buyers alike as they are unable to achieve their desired agency size (#1 on the list) through a purchase, and hitting their business goals will likely be more contingent upon organic growth.
Corporate policy is an area that has a great deal of effect on the supply and demand economics of agency sales. In an ideal world where Allstate Agency values are maximized, there will always be more demand for a purchase opportunity than there is supply. Currently, the value of Allstate Agencies is very strong due to:
---
The views, opinions, positions or strategies expressed by the authors and those providing comments are theirs alone, and do not necessarily reflect the views, opinions, positions or strategies of AgencyEquity.com.